Lansing's Dental Discussion
Posts for tag: tooth contouring
By Holly Scott-Hetchler DDS
May 12, 2014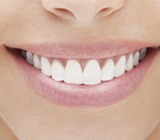 Some dental procedures that can beautify a smile — orthodontics or implants, for example — take months. Others take only minutes! Tooth contouring and reshaping is one of them. So just what is this remedy, and why would you need it?
Tooth contouring involves removing a tiny amount of enamel (the tooth's outer covering) with a dental drill to sculpt a more pleasing shape and make the tooth fit in better with its neighbors. It is most often used on highly visible teeth that have minor yet noticeable cosmetic flaws.
For example, you may have a tiny chip in a front tooth, a slight size discrepancy among adjacent teeth, or extra-pointy canines. None of these issues are as serious as, say, a misaligned bite or a tooth that's missing altogether — but they can be annoying nonetheless. If you find yourself staring in the mirror at any of these subtle yet distracting imperfections in your own smile, you may want to consider having us reshape a specific tooth or teeth.
Contouring can correct small chips, uneven tooth length, slight overlaps, and tooth edges that are too flat or pointy. We can also give teeth a more "feminine" or "masculine" appearance, simply by rounding or squaring the edges. Contouring also has a non-cosmetic use: It can be employed to adjust the bite so that the teeth come together more evenly. For example, if one tooth is just a little higher than the others, it might be subjected to more than its share of stress during chewing. This brings up another important point: We would not recommend tooth contouring if any bite imbalances could result from the procedure. And if we do determine that tooth contouring would not be the best way to go in your particular case, don't worry — we can come up with a solution for any cosmetic issues that are of concern to you.
If you have any questions about tooth contouring and reshaping — or any other cosmetic dentistry procedures — please contact us or schedule an appointment for a consultation. You can learn more by reading the Dear Doctor magazine article "How and Why Teeth Wear."