Lansing's Dental Discussion
Posts for tag: bone grafting
By Holly Scott-Hetchler DDS
January 12, 2020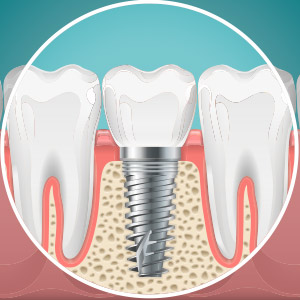 Besides their life-likeness, implants are also prized for their high success rate. More than ninety-five percent of implants continue to function effectively after ten years.
Implants' advanced technology explains some of their reliability and longevity—they're as close to natural teeth as we're now able to achieve. But their impressive success rate also owes to the detailed protocols that dentists follow to install them. One critical part of these protocols is ensuring a patient has enough bone in their jaw to support and precisely situate the implant for the best functional and aesthetic outcome.
Unfortunately, there are situations where a patient doesn't have enough bone to achieve a satisfactory result. This often happens if there's been months or years between losing the tooth and considering an implant. The reason why relates to the nature of bone as living tissue.
Like other cellular tissues in the body, bone has a life cycle: Older, worn-out cells die and are absorbed by the body, and new cells form to replace them. The growth cycle in the jaw receives stimulation from the forces generated when we chew, which travel up through the teeth to the bone.
However, this stimulation stops after tooth loss for the related area of bone, which can slow new bone growth. Over time, the volume and density of the bone around a missing tooth gradually decreases, enough eventually to make an implant impractical.
Insufficient bone volume, though, doesn't necessarily mean an implant is out of the question. We may be able to address the problem by attempting to regenerate the bone through grafting. This is a procedure in which we insert graft material into the affected area of the jawbone. The graft then becomes a scaffold upon which bone cells can grow.  After several months, we may have enough regenerated bone to support an implant.
If there's been too much bone loss, we may still need to consider another form of restoration. But if we can successfully build up the bone around your missing tooth, this premier restoration for replacing lost teeth could become a reality for you.
If you would like more information on dental implants, please contact us or schedule an appointment for a consultation.
By Holly Scott-Hetchler DDS
November 18, 2018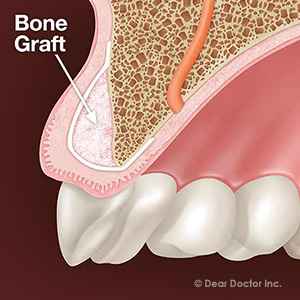 The "magic" behind a dental implant's durability is the special affinity its imbedded titanium post has with bone. Over time bone grows and attaches to the titanium surface to produce a strong and secure hold.
But there's one important prerequisite for ultimate implant success—there must be an adequate amount of bone available initially to properly position the post during implantation. Otherwise, the implant may not have enough support to position it properly or cover the implant surface completely with bone.
Inadequate bone can be a problem for patients who lost teeth some time before and now desire to an implant restoration. This happens because when teeth are missing, so are the forces they generate during chewing. These forces stimulate new bone growth around the tooth root to replace older, dissolved bone at a healthy rate. If that replacement rate is too slow, the volume and density of bone may gradually diminish.
There is a way, though, to build up the bone for future implantation. Known as bone preservation procedure or a ridge augmentation, it's a surgical procedure in which the dentist adds bone grafting material to the extraction socket or the bony ridge. The graft serves as a scaffold for new bone cells to grow and multiply. If successful, there will be enough new bone volume after several months of healing to support proper implant placement.
Bone grafting can add more time to the implant process. It may also mean you will not be able to undergo immediate crown placement after implantation (a "tooth in one day" procedure). Instead we would probably suture gum tissue over the implant to protect it and allow for full integration with the bone over a few more months. In the meantime, though, we could fit you with a temporary restoration like a removable partial denture (RPD) or a bonded bridge to improve the appearance of the space while the bone continues to heal.
After several months, your implant will have a better chance of a secure hold and we can then attach a life-like crown. Even if you've suffered bone loss, you'll then have the benefit of not only a durable implant but also a new smile.
If you would like more information on dental implants, please contact us or schedule an appointment for a consultation.
By Holly Scott-Hetchler DDS
January 13, 2015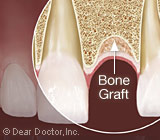 A dental implant can permanently restore the form and function of a missing natural tooth. But there's an important prerequisite for this smile-transforming therapy — you must have enough bone remaining at the implant site to securely anchor the implant and ensure proper crown placement for the most natural looking result.
Patients who don't meet this prerequisite may need to consider other restorative options. In some cases, however, we may be able to encourage sufficient bone growth to support an implantation through a technique called bone grafting.
Bone grafting involves opening the gum tissues at the intended implant site to expose the underlying bone. We then place the grafting material (usually a processed material) around the bone, sometimes with collagen membranes that serve as subterranean band-aids to guide bone growth. In most cases, the graft is actually a scaffold for the natural bone to grow upon; the natural bone will eventually replace the graft material. The procedure is normally performed with local anesthesia to minimize discomfort.
While bone grafting is a fairly routine procedure, it shouldn't be undertaken unless there's a firm prognosis it can successfully support a future implant. We must therefore determine if anything else in your oral health would disqualify you as an implant candidate, even if sufficient bone existed or not. We must also determine if there's enough remaining bone currently at the site to even attach a bone graft.
Once we're satisfied that bone grafting would be both possible and helpful, we must then consider what type of grafting material to use. If we're only replacing one tooth we may choose to use an autograft, bone material taken from another area of your own body. Although autografts have advantages because of their regeneration ability, it does involve creating another surgical site within the body. In most cases we may use processed materials, for example allografts, material that originates from another human being; xenografts, taken from another species of animal; or synthetic (man-made) materials. Regardless of the source, these materials are first processed to be safe for human use.
If successful, the regeneration process will result in enough new bone structure to make dental implants a reality. Your mouth will be healthier — and your resulting smile will be more beautiful than ever.
If you would like more information on bone grafting, please contact us or schedule an appointment for a consultation. You can also learn more about this topic by reading the Dear Doctor magazine article "Can Dentists Rebuild Bone?"