Lansing's Dental Discussion
Posts for: June, 2020
By Holly Scott-Hetchler DDS
June 20, 2020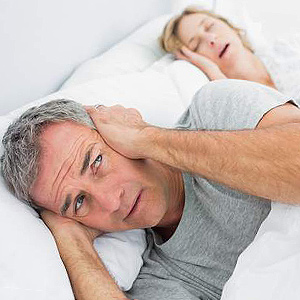 Do you still feel tired or unfocused even after a full night's sleep? Do others complain about your snoring? It's possible these are signs that you may have sleep apnea.
Sleep apnea is a condition in which you stop breathing while you sleep. Your brain will awaken you to breathe, although you may not consciously realize it since the waking period can be less than a second. But it does disrupt your sleep rhythm, especially during the all-important deep sleep period called Rapid Eye Movement (REM). These disruptions don't allow your body to receive the full benefit of sleep, hence your lack of energy and focus during the day.
One of the most common causes for sleep apnea is the collapse of soft tissues near the throat as they relax during sleep that restrict the airway. Snoring is an indication this may be occurring: air vibrates rapidly (and loudly) as it passes through this restriction when you breathe in.
As your dentist, we're well-trained in the anatomy and function of the entire oral structure, and qualified to offer solutions for sleep apnea. If you've been diagnosed with sleep apnea (after a complete examination, including an observation session at a sleep laboratory), we can then help you decide on a treatment approach. The following are three such options, depending on the severity of your sleep apnea.
Oral Appliance Therapy. An oral appliance you wear while you sleep is a first line treatment for mild or moderate sleep apnea. The appliance, which we custom design for you, helps hold the lower jaw in a forward position: this moves the tongue and other soft structures away from the back of the throat, thereby opening the airway.
Continuous Positive Airway Pressure (CPAP). Intended for more moderate to severe forms of sleep apnea, a CPAP machine produces continuous air pressure to the throat through a mask you wear during sleep. This forces the tongue forward and the airway open.
Surgical Intervention. These procedures remove excess tissue that may be obstructing the airway. Due to its invasiveness and permanent alteration of the throat area, surgery is reserved for patients who haven't responded to other therapies in a satisfactory manner.
Whether mild or severe, it's possible to effectively treat sleep apnea. If successful, not only will you benefit from better sleep and greater alertness, you'll also improve your long-term health.
If you would like more information on treating sleep apnea, please contact us or schedule an appointment for a consultation. You can also learn more about this topic by reading the Dear Doctor magazine article "Sleep Disorders & Dentistry."
By Holly Scott-Hetchler DDS
June 10, 2020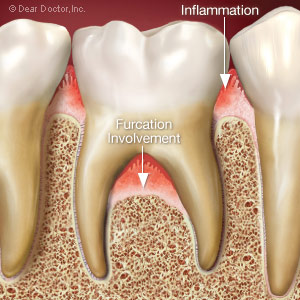 Periodontal (gum) disease often involves more than gum inflammation. The real danger is what this bacterial infection may be doing to tissues beneath the gum line—including tooth roots and supporting bone.
Gum disease can do extensive damage to the forked areas where the roots separate from the main tooth body. If one of these areas, known as a furcation, becomes infected, the associated bone may begin to diminish. And you may not even know it's happening.
Fortunately, we may be able to detect a furcation involvement using x-rays and tactile (touch) probing. The findings from our examination will not only verify a furcation involvement exists, but also how extensive it is according to a formal classification system that dentists use for planning further treatment.
A Class I involvement under this system signifies the beginning of bone loss, usually a slight groove in the bone. Class II signifies two or more millimeters of bone loss. Class III, also called a "through and through," represents bone loss that extends from one side of the root to the other.
The class of involvement will guide how we treat it. Obviously, the lower the class, the less extensive that treatment will be. That's why regular dental checkups or appointments at the first sign of gum problems are a must.
The first-line treatment for furcation involvements is much the same as for gum disease in general: We manually remove bacterial plaque, the main source of infection, from the root surfaces using hand instruments and ultrasonic equipment. This is often followed by localized antibiotics to further disinfect the area and stymie the further growth of the furcation involvement.
We also want to foster the regrowth of lost tissue, if at all possible. Classes II and III involvements may present a challenge in this regard, ultimately requiring grafting surgery to stimulate tissue regeneration.
The best approach by far is to prevent gum disease, the ultimate cause for a furcation involvement. You can reduce your chances of gum disease by brushing and flossing daily to remove disease-causing plaque. Regular dental cleanings and checkups, at least every six months, help round out this prevention strategy.
A furcation involvement could ultimately endanger a tooth's survival. We can stop that from happening—but we'll have to act promptly to achieve the best results.
If you would like more information on treating gum disease, please contact us or schedule an appointment for a consultation. You can also learn more about this topic by reading the Dear Doctor magazine article "What are Furcations?"