Lansing's Dental Discussion
Posts for: September, 2019
By Holly Scott-Hetchler DDS
September 14, 2019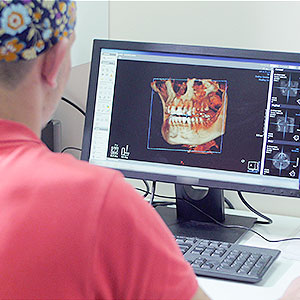 Compared to other dental restorations—a few of which have been around for over a century—implants are a relatively recent development. But even though it's just now entering its fourth decade, recent advances have catapulted implant therapy well beyond where it began.
That's due mainly to digital technology. Two examples of this, computed tomography (CT) and 3-D printing, are increasing the accuracy and efficiency of implant placement.
Properly placing an implant is one of the most important elements in achieving a natural and attractive result. But finding the best location is often difficult due to a lack of suitable bone volume, the patient's bite or the proximity of anatomical structures like nerves and blood vessels. CT imaging, especially Cone Beam CT scanners (CBCT), is helping to make implant placement planning easier.
Unlike the static, two-dimensional views of standard x-rays, CBCT takes hundreds of images and digitally blends them together to create a virtual 3-D model of the patient's jaw and face. Dentists can view this highly detailed model on a computer monitor from various vantage points and better identify possible obstructions. With better information about what "lies beneath," they can more accurately pinpoint the best implant site.
Creating the ideal plan is one thing—successfully implementing it is another. Dentists often create a surgical guide that helps them drill in precisely the right positions during surgery. The guide, which resembles a mouthguard, fits over the gums and contains marker locations for drilling.
Many dentists are now using 3-D printing to create these surgical guides. A 3-D printer turns a digital model of the guide based on measurements of the patient's mouth and proposed implant locations into an actual physical object "printed out" layer by layer of special polymer material. The end product can be more precise than guides created by other means.
These and other technological developments are helping implant therapy rise to a new level of success. With the resulting increase in accuracy, efficiency and less treatment time, tomorrow's implant patients will be the ultimate beneficiaries.
If you would like more information on restoring missing teeth with dental implants, please contact us or schedule an appointment for a consultation. You can also learn more about this topic by reading the Dear Doctor magazine article "How Technology Aids Dental Implant Therapy."
By Holly Scott-Hetchler DDS
September 04, 2019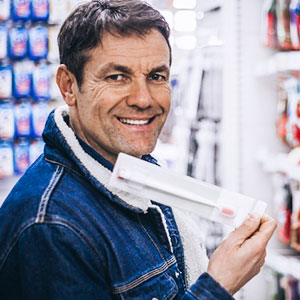 When you're buying a tool or appliance, you compare brands for the best quality you can afford. There's another important item that deserves the same level of scrutiny: your toothbrush. Choosing the right one for you can make a huge difference in your oral hygiene effectiveness.
But a visit to your store's dental care aisle can dim your enthusiasm. You have plenty of options involving all manner of shapes, sizes and features. Perhaps too many: After a while, the sheer number of choices can paralyze your decision-making process.
You can streamline this selection process by concentrating on a few important toothbrush basics. First up for consideration: the bristles. While you may think a good stiff brush would be best, it's actually the opposite—most dental professionals recommend softer bristles. That's because hard bristles can potentially damage your teeth and gums over time.
Softer bristles are gentler on your teeth and just as effective for removing plaque, if you use the right technique and thoroughly brush all tooth surfaces. And look for rounded bristles, which are friendlier to your gums.
Next, look for a brush that feels right in your hand. If you have problems with manual dexterity, look for one with an oversized handle. Some brushes come with angled necks and tapered heads, which you may find effective in reaching less accessible back teeth. This might mean trying different brushes until you get one that's right for you. Don't worry, though, you're not buying a brush for life—in fact, you should change out your brush every three to six months.
You'll also rarely go wrong buying a toothbrush with the American Dental Association Seal of Acceptance on the packaging. This seal signifies the toothbrush has undergone testing and met the ADA's standards for hygiene effectiveness. While some manufacturers of effective brushes don't pursue this seal, you can be sure one with it has passed the test of quality.
It makes all the difference in the world having the right tool for the job. Be sure your toothbrush is the right one for you.
If you would like more information on toothbrushes and other dental care products, please contact us or schedule an appointment for a consultation. You can also learn more about this topic by reading the Dear Doctor magazine article "Sizing up Toothbrushes: How to Choose the Right Brush for Optimal Oral Health."