Lansing's Dental Discussion
Posts for: February, 2019
By Holly Scott-Hetchler DDS
February 16, 2019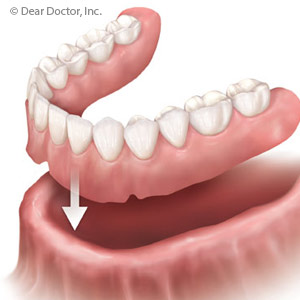 Although highly preventable, total tooth loss continues to affect millions of people worldwide, harming their nutrition, health and social standing. In the United States alone, a quarter of adults between 65 and 74 suffer from total tooth loss.
Fortunately, there are a number of ways to restore lost teeth, including fixed bridgework and dental implants. These fixed solutions, though, can put a strain on finances; implants in particular require a minimum amount of bone in the jaw, which may not be present in people with extensive tooth loss. In these cases, removable dentures, time-tested and affordable, are a viable option.
While the technology is simple, adaptable and effective, creating custom-fitted dentures is a painstaking process. It begins with an impression mold of the patient's jaw ridges that once supported the natural teeth. A dental lab technician uses the impression to fashion a life-like plastic resin base, making sure the final dimensions won't interfere with the patient's cheeks, lips, and jaw movement.
The prosthetic (artificial) teeth, each chosen to match the patient's facial structure and past appearance, are then carefully positioned on the base. Teeth positioning on each denture arch must also balance with the opposing arch to assure a good bite. Once delivered, the dentist may make other adjustments to assure they fit comfortably within the patient's mouth.
Dentures also require regular care and maintenance to ensure a continuing good fit and an overall healthy mouth. Your gums will still be susceptible to disease, so cleaning and maintaining both your dentures and the mouth's soft tissues is an ongoing necessity.
The lack of natural teeth can also lead to more bone loss, which can cause the dentures to lose their accurate fit and make them uncomfortable to wear. To remedy this, we can add more resin material to the dentures to refit them or, in extreme cases of poor fit, create a new denture to match current gum contours. Alternatively, we can install a few dental implants that will support the denture instead of the gum ridges, which would inhibit further bone loss.
To learn whether dentures could be a good option for you, we'll first need to conduct a thorough examination of your mouth. It could be this original tooth replacement system will bring back the teeth and smile you've lost.
If you would like more information on dentures, please contact us or schedule an appointment for a consultation. You can also learn more about this topic by reading the Dear Doctor magazine article "Removable Full Dentures."
By Holly Scott-Hetchler DDS
February 06, 2019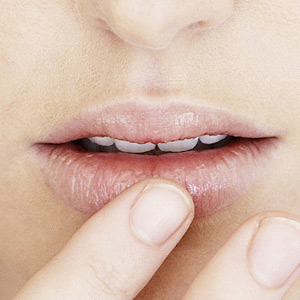 If you've noticed redness or small skin cracks at the corners of your mouth, you may have a common infection known as perleche or angular cheilitis. Depending on its cause, there are ways to treat the redness and skin cracking to lessen your discomfort.
The term perleche comes from the French word "lecher," meaning to lick. This is derived from the tendency of perleche patients to constantly lick the area to ease irritation; unfortunately, this also helps perpetuate the inflammation. Once the skin is broken the area is commonly infected by yeast called candida albicans.
Initially, perleche may arise from a variety of sources, most of them locally from either inside or around the mouth, although it can be triggered by a general body infection or disease like diabetes or cancer, or vitamin or iron deficiencies. Inside the mouth reduced saliva flow, tissue inflammation under a rarely cleaned denture (denture stomatitis), pressure on the mouth corners caused by a collapsed bite due to missing teeth and similar conditions can elevate the risks for infection. Around the mouth wrinkling or "marionette lines," deep lines that extend from the mouth to the chin due to aging or environmental exposure, can contribute to crack formation. Drooling during sleep or as a result of orthodontic treatment is also a contributing cause.
The main focus of treatment for perleche is to bring any infection under control. This can be accomplished with a course of oral or topical antifungal (yeast-attacking) medication. If the infection has spread into the mouth or throat we might then prescribe a troche, a small lozenge designed to dissolve, which you would rinse with and then swallow to affect other portions of the mouth. Steroid or zinc oxide ointments applied directly to the skin can control inflammation and serve as a barrier agent with antifungal properties to promote healing.
If the cause is more related to dental problems (ill-fitting dentures or missing teeth), then it's important to have these addressed and treated. You may also consult a dermatologist for treatments to lessen wrinkling around the mouth that might also contribute to chronic cases of perleche.
If you would like more information on cracked mouth corners, please contact us or schedule an appointment for a consultation. You can also learn more about this topic by reading the Dear Doctor magazine article "Cracked Corners of the Mouth."