Lansing's Dental Discussion
Posts for: January, 2014
By Holly Scott-Hetchler DDS
January 23, 2014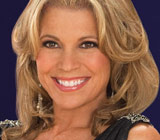 Everyone knows Vanna White as the elegant co-host of the popular game show Wheel of Fortune. But here's one thing you may not know: White is listed in the Guinness Book of World Records as television's most frequent clapper, with an average of 720 claps per show — that's over 28,000 per season! And here's something else: the star with the megawatt smile wore braces as a kid, and she's not too shy to talk about it.
"I only had to wear them for a year and it was a good experience for me," she told an interviewer for Dear Doctor magazine. But when it was time for her son to get them, White noticed something different. "We used to have those silver bands that went all the way around each tooth, and they don't have that anymore. It is fascinating to see how far they have come."
We're glad she noticed! In fact, orthodontic appliances have advanced a good deal in the past decade or so. Instead of using metal bands, brackets holding the wire part of braces are now typically attached directly to the teeth with a dental adhesive. For an even less obtrusive look, ask about using colorless brackets instead of metal ones — that way, the only part that's clearly visible is the thin wire itself. And in some situations, braces can be placed on the lingual (tongue) side of the teeth, making them all but invisible.
Another type of nearly invisible appliance is the clear orthodontic aligner. The aligner system consists of a series of precision-made transparent "trays" that fit over the teeth. Each tray is worn for a few weeks, and each moves your teeth by a small amount; together, they can help correct mild to moderate orthodontic problems. And the best part — they're really hard to notice! That makes them perfect for both adults concerned about a "professional" look, and image-conscious teens.
So if you're a TV star — or if you'd just like to have a brighter and better smile — it's never too late to get started! If you would like more information about orthodontics, please contact us for a consultation. You can learn more in the Dear Doctor magazine articles "The Magic of Orthodontics" and "Clear Orthodontic Aligners."
By Holly Scott-Hetchler DDS
January 08, 2014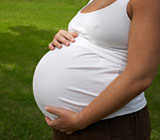 During pregnancy, a mother has many health concerns for both her baby and herself. Though it may not seem as important, dental health and development should be on that list of concerns, for both you and your baby. In fact, your baby's tooth development is already well underway just a few weeks after conception. Pregnancy can also present challenges to your own dental health that definitely deserves your attention and care.
Taking care of your own dietary needs and dental health is also the best thing you can do for your baby. The baby growing within you needs calcium, phosphorus, vitamins and other minerals for the healthy development of teeth and bones. That can only come from you eating a balanced diet rich in these nutrients.
During pregnancy, you are also more susceptible to gingivitis (inflammation of the gums) or other gum diseases because of the normal increase in the level of the hormone progesterone. In fact, some studies seem to indicate that severe gum disease might even raise the risk for premature birth and a low birth weight. It's important then to practice good dental hygiene during your pregnancy: brushing your teeth at least twice a day with an American Dental Association (ADA) approved fluoridated toothpaste, flossing and using an ADA approved mouth rinse that deters the buildup of plaque and the occurrence of gingivitis. Our office is also happy to provide you instruction on proper brushing and flossing technique to help you gain the most benefit from your daily hygiene.
By paying close attention to your own dental health and diet, you are actually doing the very best you can to provide your baby a solid foundation for a lifetime of good oral health.
If you would like more information on protecting your and your baby's oral health, please contact us or schedule an appointment for a consultation. You can also learn more about this topic by reading the Dear Doctor magazine article "Expectant Mothers: Dental facts you need to know."