Lansing's Dental Discussion
Posts for: August, 2013
By Holly Scott-Hetchler DDS
August 29, 2013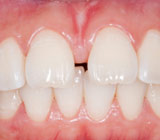 We all know Madonna, Seal, David Letterman, Anna Paquin and Michael Strahan (of the talk show Kelly and Michael). What do all of these celebrities have in common? Each has a "signature gap" between their front teeth. Given that they have been in the public eye for quite some time, it's not likely that these famous faces will choose to change their well-known smile. In fact, Michael Strahan has publically stated that he will never close his gap.
However, it is not uncommon for people to desire to fix a small gap in their teeth, particularly in advance of important events, such as weddings. Often times, fixing this small gap requires relatively simple orthodontic movements or tooth straightening. Since the teeth don't have to be moved very far, we can usually use simple appliances to correct the issue within a few months.
In order for us to determine your course of treatment, you'll need to make an appointment with our office for a thorough examination. When we examine you, we'll be looking for a number of items that will affect our treatment recommendation:
Is there enough room to close the space without creating other bite problems?
Are the roots of the teeth in reasonably good position to allow for minor tooth movement to close the space? X-rays will be required to make a proper assessment.
Is there an involuntary tongue habit that has pushed the teeth forward and created the gap? If so, this could be difficult to fix quickly.
Are the surrounding gum tissues and bone healthy?
Based on our assessment and your individual needs, we may recommend one of the following options:
Clear retainers, a computer-generated series of clear retainers customized for your bite to move the teeth
Removable orthodontic retainers to which we will attach small springs or elastics to facilitate the minor tooth movement
Traditional fixed orthodontic appliances (most commonly known as braces), small metal or clear brackets bonded to your teeth through which tiny wires are used to move the teeth
Regardless of the method we choose, once your teeth have moved into the new position, it is important for you to remember that they must be kept in this position until the bone stabilizes around the teeth. We may therefore advise you to wear a retainer for a few months to a few years, depending on your situation.
If you would like more information about orthodontic treatments, please contact us or schedule an appointment for a consultation. You can also learn more by reading the Dear Doctor magazine article "Minor Tooth Movement."
By Holly Scott-Hetchler DDS
August 14, 2013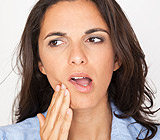 Nothing ruins a thirst-quenching cold beverage or a dish of your favorite ice cream like a sudden pang of tooth sensitivity. If you're experiencing this problem — and especially if there are other triggers, like biting down — we encourage you to make an appointment. It could be something harmless and temporary, but it's always prudent to check. At the very least, you'll feel better once the underlying problem is identified and treated if necessary.
Here are some common sources of tooth sensitivity:
Enamel erosion — typically caused by acidic beverages/food, regurgitation of stomach acids (due to gastroesophageal reflux disease [GERD] or the eating disorder bulimia), or improper brushing
Tooth decay — a sugary diet and poor dental hygiene may be contributing factors
Tooth fracture or chipping due to tooth grinding (bruxism) or other trauma
Gum recession due to age, improper tooth brushing, or gum disease
Filling that needs repair or replacement
Residual effects of recent dental work
Some things you can try at home to minimize sensitivity include:
Ease up on the toothbrush; a light touch is all that's needed to dislodge daily plaque build-up
Try using fluoride-containing toothpaste like an ointment over the affected area (fluoride decreases fluid exchange from the oral environment to the nerve inside the tooth)
Take a non-steroidal anti-inflammatory such as ibuprofen (use judiciously and according to the package insert guidelines)
Discomfort related to recent dental work should resolve on its own; give it several weeks. If you're feeling discomfort for another reason, even if the sensitivity subsides, the underlying cause may still require attention.
If you would like more information about tooth sensitivity, please contact us or schedule an appointment for a consultation. You can also learn more about this topic by reading the Dear Doctor magazine article "Sensitive Teeth."